Details
Organise your own island crossings and we will do our best to make your dream come true or join in one of our own island crossings:
Next crossing:
> NIGHT CROSSING: On board the Marhaba Catamaran.

Los Gigantes (TENERIFE) - Marina Anfi (GRAN CANARIA). Night from November 14 to 15.
The Marhaba Catamaran crossings are entertainment, participatory crossings, where collaborates in both navigation maneuvers and life tasks on board and they are intended to enjoy sailing, comfortable and at the same time exciting, in which participants do not need to have experience. If they have it will be better. 
On board we will teach you basic knowledge of terminology and parts of aship, hoisted and lowered sails, knots and moorings, positioning in the nautical chart, plotter reading, elements and safety measures on board, etc. We will only sail if the weather conditions are not extreme always putting theeveryone's safety because the idea is to ENJOY.
The catamaran has four double cabins and a bunk bed for these crossings, therefore, the former must be shared. All food, beverage, berths, fuel, insurance and cleaning expenses are included in the contribution that will be € 150.00 per participant.
Maximum number of participants 6.
Being a night navigation, bridge guard shifts will be created.
There will be free access to drinks and cooking.
We have every permits, insurance and security elements required by the regulations in force.
Safety conditions and regulations mandatory.
The participant declares:
1. Be of legal age.
2. Accept the rules of security and coexistence dictated by the Employer.
3. Not have any illness or physical ailment that hinders movement or living on board and not being medicated while browsing.
Registration at travesías@navegarencanarias.com
For more information call us at (+34) 666 80 77 88
Past crossings:

For diary reasons, we have brought forward the starting date for our forthcoming 8 island Tour, which will pass from June to the week comprising 15th to 21st May, departing from the Marian Rubicon.

We will specify the exact date of the departure on approximately 10th May.
We will start on board the Marhabas, and our trip will have various stages, and will last around 10 days (depending on the sea conditions).
This stage by stage trip will follow this route: depart from Marina Rubicón, Lanzarote setting sail for Lobos and Morro Jable in Fuerteventura, from here to Las Palmas, Pto. de Mogán in the south of Gran Canaria, Los Gigantes in Tenerife, Valle Gran Rey in La Gomera, La Restinga in El Hierro, Tazacorte in La Palma and from here straight to the last and smallest of the islands, La Graciosa. We will sail through the areas where it most likely for us to see a whale. Total number on board is 6 people for your comfort. You can join just one of the stages or several of them. We will inform you of the details shortly. If you like sail boats, observing marine life, taking photographs of nature or if you have a research project, this is a good choice.
Here is a list of the stages and the cost per crew member for each one.

Stage Nº 1. From Marina Rubicón, Lanzarote to Puerto de Morro Jable, Fuerteventura ...100.00€ p/p
Stage Nº 2. From P. de Morro Jable to the Sports Marina in Las Palmas de G.C ... 50.00€ p/p
Stage Nº 3. From P. de Las Palmas to Puerto de Mogan, south of Gran Canaria ... 100.00€ p/p
Stage Nº 4. From P. de Mogan to Puerto de Los Gigantes, Tenerife ... 150.00€ p/p
Stage Nº 5. From P. de Los Gigantes to Marina Valle Gran Rey, La Gomera ... 150.00€ p/p
Stage Nº 6. From M. Valle G. Rey to Pto. de La Restinga, El Hierro ... 150.00€ p/p
Stage Nº 7.  From P. de La Restinga to Puerto de Tazacorte, La Palma ... 150.00€ p/p
Stage Nº 8. From P. de Tazacorte to Pto. de Los Gigantes ... 150.00€ p/p
Note. The stage from La Palma to La Graciosa will be undertaken as a separate trip - information to come later on. 

We would remind you that all expenses are included accommodation aborad, food and drinks aboard, fuel, port docking fees etc. Transfer expenses for the members of the trips are not included.

There is a discount for participating in more than one of the stages. 
The trips will start early in the morning and we will spend the nights on board docked in the harbours, except for the stage Mogán to Los Gigantes where we will set sail at night. From Lanzarote to Mogán  there are 6 places available and from Mogán to the end there will only be 4 available.

Do not miss this magnificent opportunity and experience. Call us now for further information.
Read more
Read less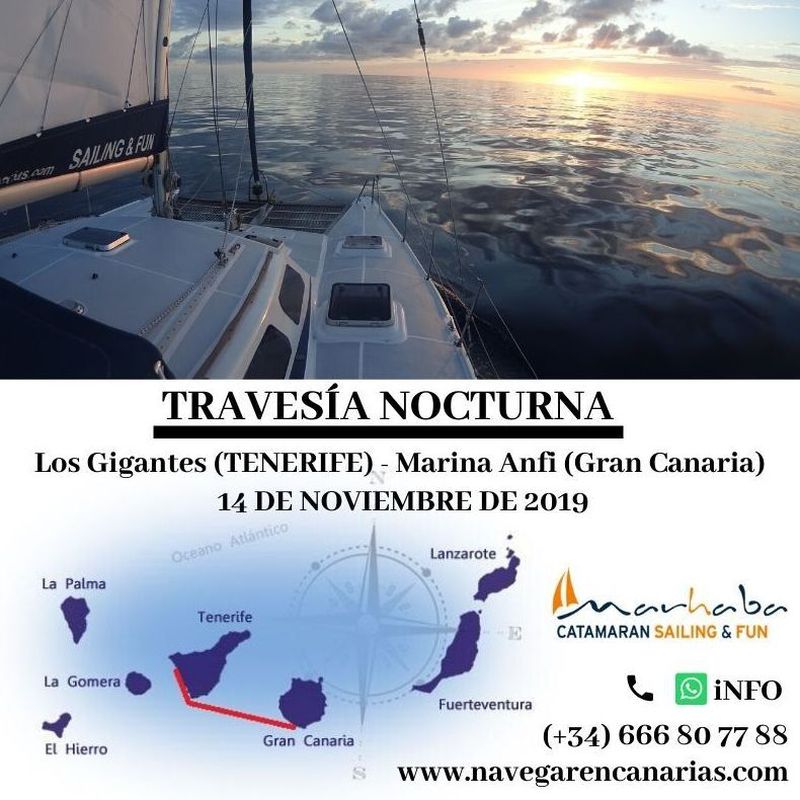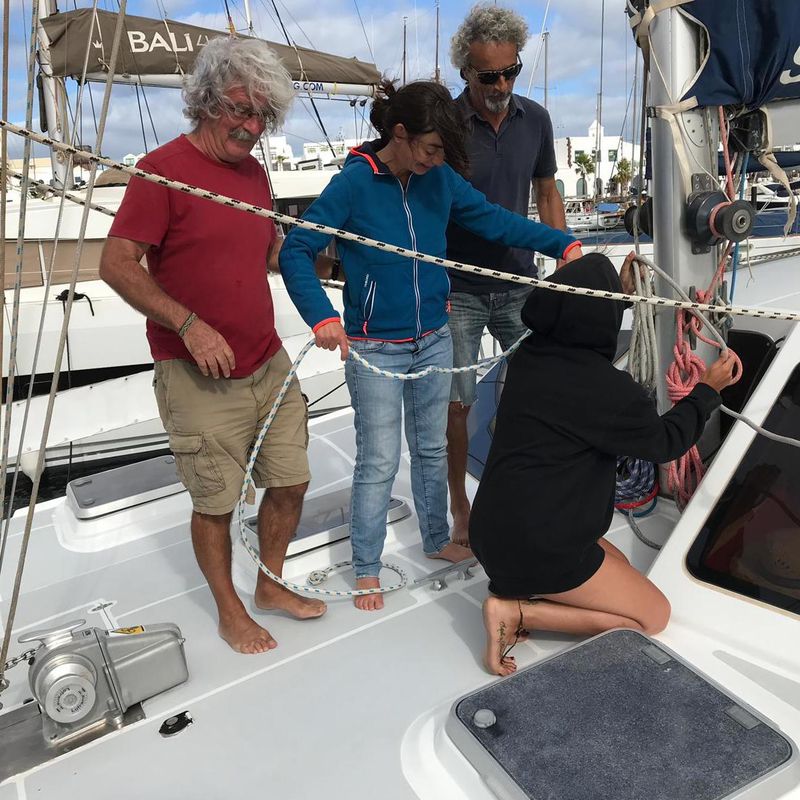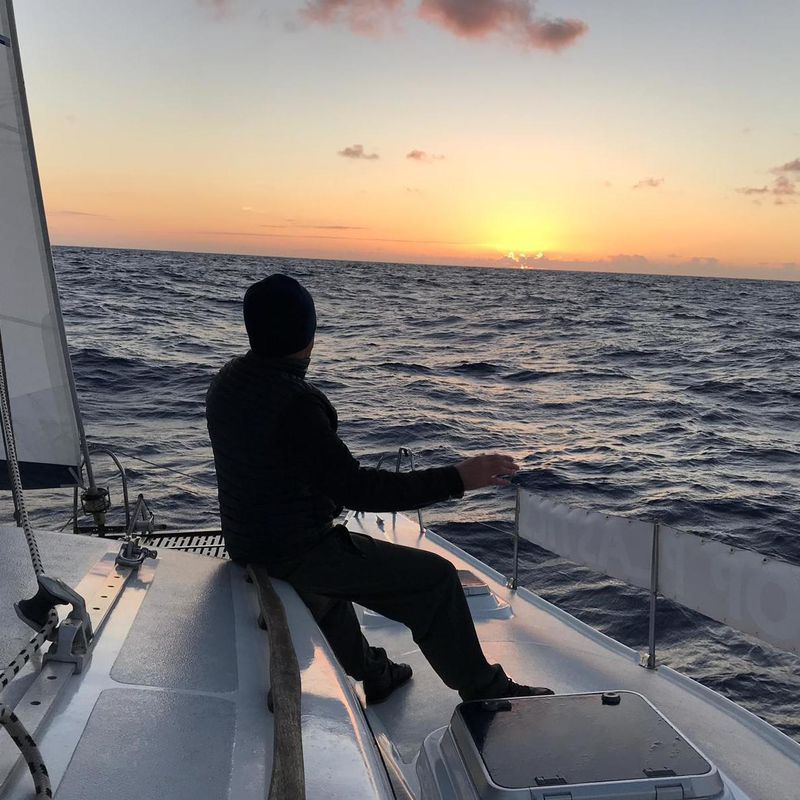 Ask us throught Whatsapp